R&D Achievements
---
TM6202:  Bearing 6202 is one of the most commonly used bearings for the main shaft of motorcycle engine, and the conventional 6202 bearing cannot meet the requirements of large displacement engines for the use of bearings. The TM6202 bearing has a longer service life and more stable quality than the ordinary 6202 bearing, which completely solves the unstable quality of the conventional 6202 bearing without changing the engine structure.
TM6205:
TM6205 bearing, as the representative of our high-speed bearing, provides an effective solution for 125 improved engine crankshaft bearing, which can not only replace the original 6304 bearing, but also solve the current situation that the conventional 6205 can not meet the use requirements.
TM6205A:
As a long-life bearing, this bearing has passed the 1000h test in the life test and customer bench test. It provides effective quality assurance for customers' high-end models.
63/28, 6304: These two bearings are the first motorcycle crankshaft bearings launched by our company. After market verification, the product quality meets customer demand and the cost is relatively low. It has laid a solid foundation for the market promotion of our crankshaft bearings.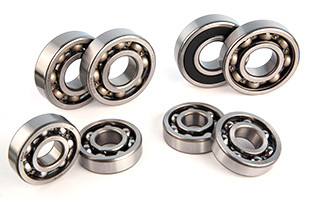 Key recommended products:
63/28: As one of the most commonly used bearings for motorcycle crankshaft bearings, our company has also developed sealing and deformation structures such as 63/28-RS, 63/28-1B, 63/28X1, etc. Provide customers with the most appropriate solutions.
6203S: This bearing is a special camshaft bearing developed in combination with the working conditions of camshaft bearings. The reasonable parameter ratio and special heat treatment process are highly adaptable to the special working conditions of camshaft bearings.
TM6202: Special design, reliable service life and stable quality are the best choice for the main shaft bearings of large displacement engines. This product also has TM6202-Z, TM6202-RS and other sealing structures. Applicable to: 150, 175, 200, 250 and other models. At the same time, it also has good performance when used on the balance shaft.
TM6204: The quality of conventional 6204 bearings is not stable in the selection of auxiliary shaft bearings for large displacement engines, especially for engines above 175, and the bearings of various manufacturers have different degrees of problems. This bearing can solve this problem to a greater extent.
6303E: This bearing is a strengthened design scheme of conventional 6303 bearing, which is a special bearing for balance shaft. The problem of unstable quality of conventional 6303 bearing is solved.
Mobile website
Chongqing Xinchao Bearing Co., Ltd